You can also stop the virus by cleaning surfaces in your home and washing your hands. Doing these things as often as possible will help lower the amount of virus in your home – and they're easy to do!

You can find more advice on handwashing in the menu after this section.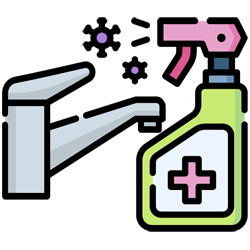 Killing viruses by cleaning. It is very hard to avoid shared areas of the home, such as kitchens and bathrooms, so keeping them clean is important.

The easiest way to clean things that you and other people have touched is with disinfectant. This might include taps, fridge, door handles, toilet flush, and surfaces such as tables, kitchen tops etc…

You could keep bottles of disinfectant out where they are quick and handy to use. Just make sure the disinfectant is out of reach if you have young children.

Also, try to avoid sharing or touching things that other people have used unless you know that they have been cleaned recently with disinfectant. This might include towels, fridge, taps, and toothbrushes. If everyone has their own items to use then it will be easier to not share germs.

To find out more about disinfectants and washing fabrics, look at 'Reducing illness 2' at the end of this section.